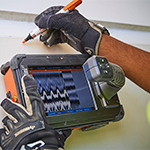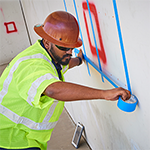 Local Concrete Scanning — Better Faster & Safer than Concrete X-Ray. Use the latest technology in Ground Penetrating Radar — provided by SiteScan, the newest division of a 50 year old firm that has worked on some of Southern California's largest construction projects.
Responsive – Same day Concrete Scanning response to urgent or last-minute requests.
State-of-the-Art – the most technologically advanced GPR & X-Ray Alternate equipment and digital reporting system with real-time reporting.
Solution Driven – we go beyond just concrete scanning and reporting. We work to solve Concrete Scanning problems to get you the results you need.
Concrete scanning from SiteScan makes it possible to detect:
Rebar
Concrete Coring
Post-Tension Cables
Fiber Optic Cables
PVC piping
Active and Inactive Utility Lines
With our state-of-the-art technology, the ground penetrating radar in our concrete scanning services can detect objects up to 12 ft below ground. In addition, all of our technicians can provide real-time data analysis and generate 2D and 3D reports.
 Concrete Scanning
Ground Penetrating Radar from SiteScan is an improvement to old fashioned X-Ray imaging.  The benefits to using GPR include:
Non-Destructive – All concrete structures are preserved.  No project down-time. Voids can be identified, located, and mapped.
Cost-Effective – With no downtime or possibility for worker injury, GPR is much more cost-effective than old X-Ray methods.
Efficient – GPR makes it easy to identify safely core locations. More visibility, better reporting, faster results.
Safe – No radiation, so workers and bystanders are protected.
Assures Quality – Monitor issues in a concrete structure. No more guesswork. Know before you dig!
SiteScan can save you money, time and avoid risk of disaster!
Perfect for Hospitals, Road Crews, Municipal Projects, Schools and Universities, Major Construction Sites, and all commercial concrete scanning needs.