Our brand promise is a quality promise to our customers.
We utilize advanced, non-destructive methods to provide Better Vision through hard surfaces like soil, concrete, asphalt. Our Ground Penetrating Radar (GPR) and Electromagnetic Location services prevent unexpected setbacks in many construction projects, allowing you to work safely and avoid costly damage to existing infrastructure. Knowing where existing utilities may create conflicts gives our clients Better Intelligence to plan and execute their work efficiently and securely. Our promise is a winning combination for results with unparalleled accuracy and insight.
When you need us, we will be there.
Our service-oriented culture drives our staff to be the most responsive consultants in the industry.  We pride ourselves on our ability to provide a same-day response to urgent or last-minute requests.
We understand that delays can be very costly during construction.  Unforeseen conditions can grind projects to a halt. In these situations, your emergency is our opportunity to deliver on our commitment to provide the highest level of service available in the industry.  We know you need the results fast, so we give all digital, real-time reporting, so you get your reports before leaving the job site within minutes, not days.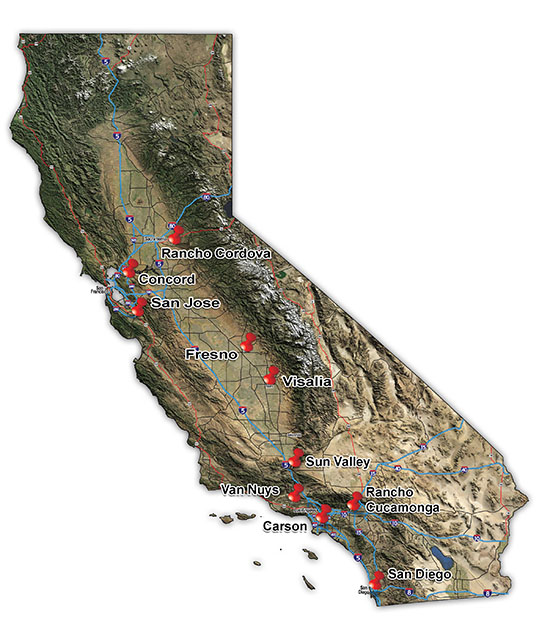 When you need Better Vision, Better Intelligence right away, you need SiteScan:
We have professional offices strategically located within California's population centers in Los Angeles, the San Francisco Bay area, San Diego, the Inland Empire, the Sacramento Valley, and the Central Valley.
With a team of more than 300 professionals on staff, we can quickly respond when needed.
We offer a same-day response in emergencies.
We guarantee a 24-hour response to all inquiries.
We offer digital on-site reporting, so you don't have to wait for your results – you get them immediately.
We are State-of-the-Art
As a forerunner in the field of ground-penetrating radar and electromagnetic location, SiteScan uses only the most current and advanced technology to ensure you get the best real-time on-site data possible. We utilize the latest techniques to identify and locate subsurface utilities, rebar, reinforcing steel, electrical conduits, water lines, post-tension cables, and communication lines. That includes the electromagnetic location of utilities through a direct connection, induction, or sonde in combination with Ground Penetrating Radar. GPR also can detect the presence and extent of voids within the subgrade to determine the structural integrity of the concrete.
Our processes are digital from initial quote development with virtual site walks via satellite imagery, through final reporting using our proprietary iPad application.  We leverage today's cutting edge technologies to help solve our clients' problems and execute our work efficiently.
SiteScan utilizes the most advanced technology to give you Better Vision about site conditions and Better Intelligence to plan your work:
We are leaders in the deployment of new technology for Concrete Scanning and Utility Location, and we pass on those efficiencies to our clients with faster service and lower costs.
SiteScan's proprietary application provides unique intelligence and instant report delivery capabilities before we ever leave the job site.
We utilize only the most advanced GPR and Electromagnetic equipment available today.
We leverage available aerial photos and satellite imaging to provide quotes in the most efficient and timely way.
SiteScan can even do virtual job site walk-throughs with you using satellite images to ensure we fully understand the scope of the project before we start.
We are Solution Driven
We consistently deliver our best results through high-quality technical expertise and in interactions with our clients.  The technicians sent to your job site go beyond just scanning and reporting; they work to troubleshoot and solve problems to get you the results you need.
Better Vision, Better Intelligence, means that our professional staff here at SiteScan will give you results with unparalleled accuracy and insight. No matter the size or scope of your project, we have the field experience, commitment to quality, and technical resources to overcome any challenge and execute our work to suit your needs.
We pride ourselves on tackling challenges head-on, coming up with unique solutions, and ensuring that projects are completed on time, accurately.
Our professional staff will assess each project and develop right-sized solutions to deliver the information you need as efficiently and expediently possible.
Our engineers are available for on-site problem solving via satellite imaging and video conferences.
We have extensive internal quality control resources to ensure your results are as accurate as possible, including a full-time independent Quality Manager.
We have served a wide variety of clients with our Concrete Scan and Utility Location services, including Kaiser Permanente, Sempra Energy, Los Angeles Unified School District, Metro, and Irvine Unified School District.
We are Committed to Safety
We consider the prevention of accidents an integral part of every operation.  We are committed to the prevention of accidents so that each of our employees returns home safely in the same condition as they arrived to work every day.  All jobs are performed safely by our certified technicians.
Our staff has extensive experience working on construction projects of all sizes and working in sometimes complex and hazardous work environments.  Each member of our team receives ongoing and recurrent safety training regularly to ensure that we remain at all times aware of our surroundings and take the necessary steps to execute our work safely.
SIteScan is competitive on price with more accurate results.
We offer competitive prices and work with clients of any size.  For every project, we assess the scope of the job and then advise companies on what we believe will give them the best, most accurate results.  We develop the right-size solution for each project, ensuring that we are delivering the best quality information at a competitive price.  We have helped on hundreds of projects for a wide variety of clients with our Concrete Scan and Utility Location expertise, and we are here to help you.
When you are looking for Better Vision, Better Intelligence, choose SiteScan.
Contact Us Today!
Call us at 888-445-SCAN (7226).
Or complete the form to the right and one of our consultants will contact you the same day.