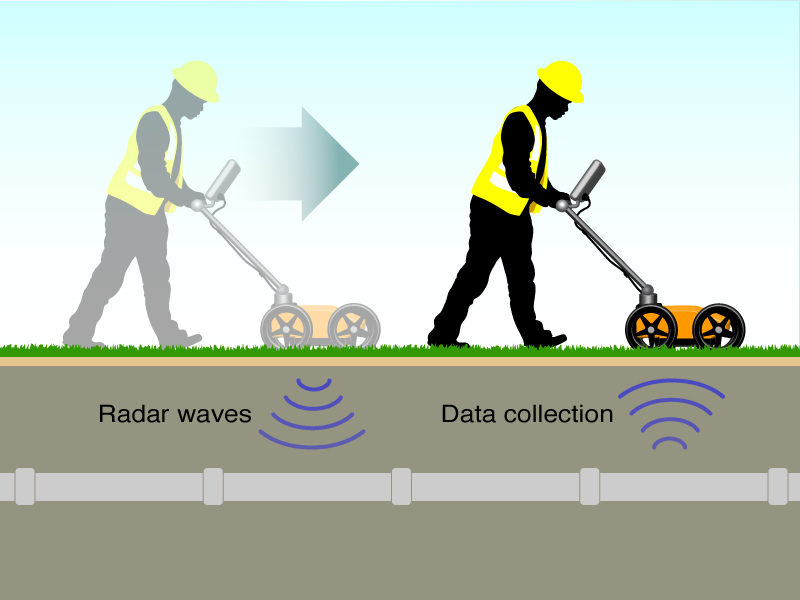 In a city the size of Los Angeles, the ground beneath your feet hides a secret world of tunnels, conduits, pipes, and archaeological evidence.  Miles of abandoned tunnels from the old Pacific Electric Red Car and the Los Angeles Railway Yellow Car lines snake their way below ground along with long unused service tunnels.  Forgotten graves await discovery.  Tar pits bubble.   Plus, it's fascinating just to imagine the tangle of underground utility lines and communication systems that make modern life tick along as we expect.  But for anyone planning a construction project, simply imagining the subsurface will never do.  In LA ground penetrating radar offers a real time view of what lies beneath the city streets and inside its miles of concrete.
Lying below ground are many types of conduits and pipelines, among them electric, sewer, water, storm drains, oil, natural gas, telephone, cable television, and security.  The number of miles of underground pipes and wires beneath LA is staggering.   There are hundreds of miles of subterranean electric lines, and more are being added every year.  (The city has a goal of burying 25% of its lines by 2030.)  The nation's largest municipal utility, the Los Angeles Department of Water and Power, maintains 7,226 miles of water pipes.  Add in all of the other aforementioned lines, and you begin to understand the challenges facing anyone planning any type of a dig in LA, from a modest home to a 1,000 feet high skyscraper.
Knowing the location of these potential obstructions is mandatory before an excavation project can break ground.  Avoiding damaging underground lines keeps everyone safe, prevents interruption of utility service, and saves time and money.  Modern lines are generally easily accounted for; with one call to 811 Dig Alert someone from each utility servicing a proposed excavation site will come out and mark the location of their lines.  The marks, however, leave a pretty wide margin for error, and any digging within two feet along either side must be done by hand.  And there is always the chance of hitting a long forgotten, abandoned line.  For those and many other reasons, LA ground penetrating radar has become an essential tool of modern construction work.
In every corner of the city lays a veritable labyrinth of subterranean lines that could negatively impact a project.  Locating utilities and other obstructions with more precision makes LA ground penetrating radar invaluable.