Commercial, residential, and industrial concrete scanning services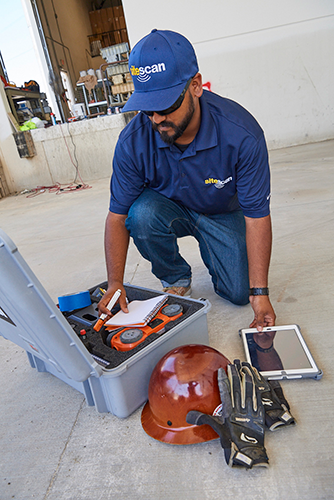 Our Concrete Scanning equipment allows you to avoid costly and time-consuming issues, caused by undetected objects in walls and slabs when you core or cut into existing concrete. We can even give you an estimate of the thickness of the concrete slab by imaging the bottom of the concrete.
Concrete Scanners are used to locate and detect:
Presence and Extent of Voids within the Concrete
Rebar
Reinforcing Steel
Electrical Conduits
Geological features and rock obstructions
When you schedule a technician to perform a Concrete Scanning at your job site, you choose peace of mind knowing that your job site has been scanned and analyzed before starting work. The lightweight and compact Concrete Scanning equipment is used with ease in otherwise impossible-to-reach areas like under stairways, narrow passages, vertical walls, and ceilings. The GPR concrete scanning technology sends radar into the structure as the technician moves the hand-held device over the designated area and records any radar that bounces back.
The Benefits of Using GPR Concrete Scanning Systems
To locate objects such as rebar, conduits, and post-tension cables embedded in concrete, a. The data can be collected in simple line scans to determine the thickness of concrete or in a grid format, which will produce a map of any targets located in the concrete. Using this method, we can look at virtual slices in the image to determine the depth of the objects and create a 3D map of the image.
GPR is an alternative to X-Ray imaging, providing concise data more safely and efficiently. The benefits of using GPR include:
Non-Destructive – Since SiteScan uses radar detection methods, sites can be inspected non-intrusively, structures are preserved, and project down-time to be avoided. Without any damage to surrounding structures or the reinforcing steel within the concrete, and voids can be identified, located, and mapped.
Cost-Effective – With little-to-no downtime, structure damage, facility shutdown, or possibility for worker injury, GPR is a cost-effective solution for identifying subsurface objects and potential problem areas.
Efficient – GPR makes it easy to identify core locations safely.
Safe – Ground Penetrating Radar technology does not produce any radiation during a scan, so workers and bystanders are protected.
Assures Quality – GPR will help monitor built-as-designed issues in a structure, such as determining if a concrete slab or wall was constructed as specified and if rebar was placed according to the design plan.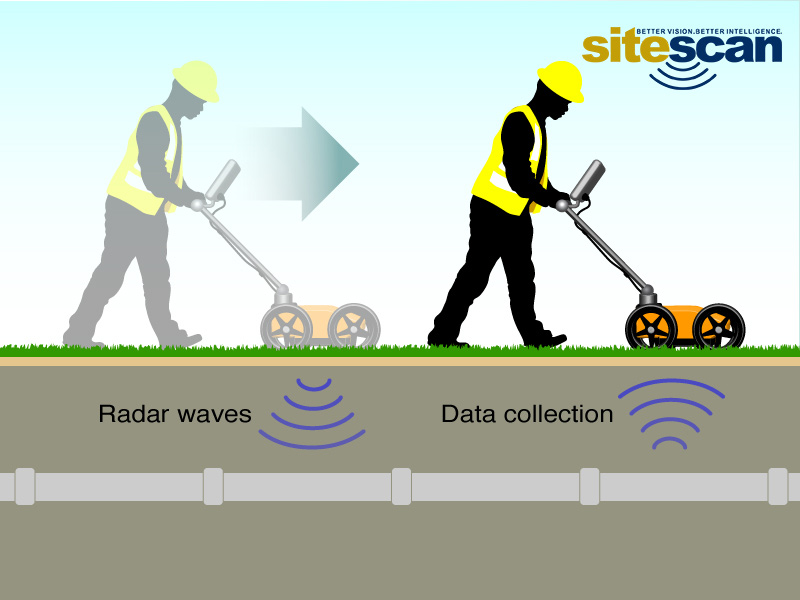 For more information on how GPR works, visit our Resources Page.
For any unlisted GPR applications, please feel free to contact us to see how SiteScan can help with your subsurface imaging needs.

Reports Delivered in minutes, not days.
We utilize only the most advanced equipment to ensure you get the detailed results you need. We offer a wide range of frequencies from various antennas to locate rebar, conduits, and post-tension cables in depths up to 30 inches.  Ideal for complex areas, the equipment can delineate small targets with superior vertical and horizontal resolution.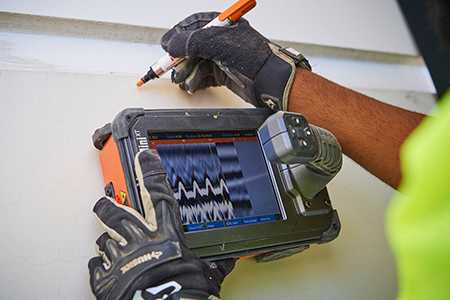 Deliverables on a Concrete Scanning Project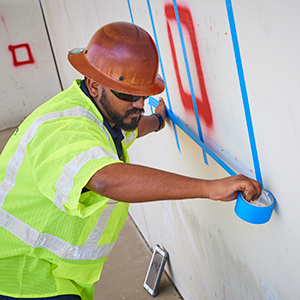 By leveraging SiteScan's proprietary application that provides Better Intelligence and instant report delivery capabilities on every job site, we deliver the reports to you electronically as soon as the scan is completed.
Our technicians collect data for concrete scanning surveys in a grid format, therefore maximizing the area coverage and ensuring the detection of objects within a structure. After utilities, reinforcing steel within concrete, and voids are located, our technicians will physically mark them directly on the surface. Non-permanent water-based paint is used where permitted. When the paint is not allowed (such as finished decorative surfaces or high traffic customer areas), we use chalk, wax, or other materials.
Better Vision, Better Intelligence means that the professional staff here at SiteScan will give you results with unparalleled accuracy and insight. No matter the size or scope of your project, we have the field experience, commitment to quality, and technical resources to overcome any challenge and deliver the information you need. We have helped on hundreds of projects for a wide variety of clients with our ground penetrating radar expertise, and we are here to help you.
Please fill out the form at the top of the page, or give us a call at 888-445-SCAN (7226).