Commercial, residential and industrial GPR Services.
SiteScan Collects and Analyzes the Subsurface Data You Need with the Latest Underground Scanning Technology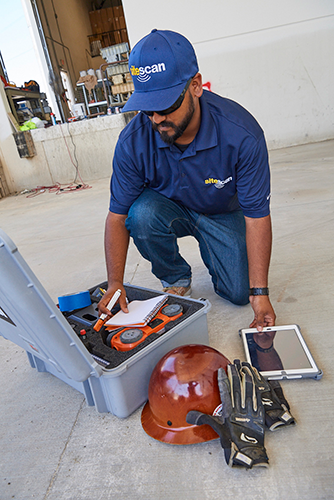 Before you start a construction project, it is essential to use a non-destructive scanning method such as GPR to know what is embedded within a variety of media, including rock, soil, freshwater, ice, pavements, and concrete structures. A Ground Penetrating Radar Survey will ensure there are no unexpected conflicts with pipes, lines reinforcing steel, post-tensioned cables, or embedded conduits.
Ground Penetrating Radar Systems (GPRS) is commonly used to locate and detect:
Underground utility lines and pipes
Post-Tension Cables
Fiber Optic Telecommunication Lines
Water Lines
Rebar
Reinforcing Steel
Electrical Conduits
Presence and Extent of Voids within the Concrete
Geological features and rock obstructions
When you schedule a SiteScan technician to perform scanning at your job site or residential home, you choose peace of mind knowing that your job site has been scanned and analyzed before starting work. Our Ground Penetrating Radar (GPR) and Electromagnetic Location services prevent unexpected setbacks in many construction projects, allowing you to work safely and avoid costly damage to existing infrastructure.
The Benefits of Using SiteScan's GPR Systems
We use a high-frequency GPR Concrete Scanning system to locate objects such as rebars, conduits, and post-tension cables embedded in concrete. The data can be collected in simple line scans to determine the thickness of concrete or in a grid format, which will produce a map of any targets located in the concrete. Using this method, we can look at virtual slices in the image to determine the depth of the objects and create a 3D map of the picture.
GPR is an alternative to X-Ray imaging, providing concise data in a safer and more efficient manner. The benefits of using GPR include:
Non-Destructive – Since SiteScan uses radar detection methods, sites can be inspected non-intrusively, allowing structures to be preserved and project down-time to be avoided. Without any damage to surrounding structures or the reinforcing steel within concrete, and voids can be identified, located, and mapped.
Cost-Effective – With little-to-no downtime, structure damage, facility shutdown, or possibility for worker injury, GPR is a cost-effective solution for identifying subsurface objects and potential problem areas.
Efficient – GPR makes it easy to identify core locations safely.
Safe – Ground Penetrating Radar technology does not produce any radiation during a scan, so workers and bystanders are protected.
Assures Quality – GGPR will help monitor built-as-designed issues in a structure, such as determining if a concrete slab or wall was constructed as specified and if rebar was placed according to the design plan.
For more information on how GPR works, visit our Resources Page.
For any unlisted GPR applications, please feel free to contact us to see how SiteScan can help with your subsurface imaging needs.

Reports Delivered in minutes not days
We utilize only the most advanced equipment to ensure you get the detailed results you need. We offer a wide range of frequencies from various antennas to locate rebar, conduits, and post-tension cables in depths up to 30 inches. Ideal for complex areas, the equipment can delineate small targets with superior vertical and horizontal resolution.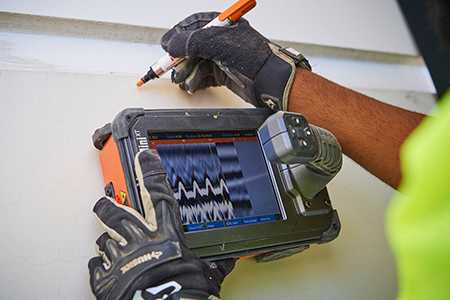 Please fill out the form at the top of the page, or give us a call at 888-445-SCAN (7226).