We are celebrating over 50 years of high-tech GPR, Concrete Scanning, Potholing, and Hydro Excavation services.
When you cannot see what's underground, we can. SiteScan is a leading provider of Ground Penetrating Radar concrete scanning, subsurface imaging, and utility locating. We utilize advanced, non-destructive methods to provide Better Vision through hard surfaces like concrete, soil, and asphalt.
Our Ground Penetrating Radar (GPR) and Electromagnetic Location services prevent unexpected setbacks in many construction projects, allowing you to work safely and avoid costly damage to existing infrastructure. Knowing where existing utilities may create conflicts gives our clients Better Intelligence to plan and execute their work efficiently and securely.
We are Responsive to your needs providing a same-day response to urgent or last-minute requests.
We are State-of-the-Art with the latest technologically advanced equipment, with a proprietary digital reporting system.
We are Solution Driven because we go beyond just scanning and reporting. We work to solve problems to get you the results you need.
Call us at 888-445-7226 or complete the form to the right, and one of our consultants will contact you within 24 hours.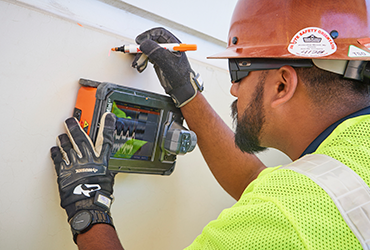 SiteScan's versatile GPR equipment examines residential, commercial, and industrial environments and gives you insight into what lies beneath or inside the concrete…
With a strong presence in several cities throughout California and Arizona, our approach to potholing utilities is both fast, accurate, and all-encompassing…
SiteScan offers GPR utility location to ensure you avoid unexpected collisions with utility lines, rebar, PVC piping, and other unanticipated underground objects.