We do more than scan and report; we problem-solve on the job site.
SiteScan is a member of the RMA Group of Companies, a premier California consulting firm that has been involved in public works projects as well as private development for more than half a decade. With a staff of more than 300 engineers, geologists, inspectors, and technicians, we are well-positioned to respond quickly to any GPR service needs you may have.
We are Innovative
SiteScan is dedicated to innovation. We start by offering the most advanced and up to date technology on the market and make sure to have the right equipment to suit a variety of projects. Our skilled technicians will determine what equipment is right for you. For example, if you are locating rebar in a tight space, we would use the GSSI Concrete Scan Mini HR (High Resolution) to get the most accurate results. If you are looking to avoid a gas line underground, the GSSI Utility Scan with SIR 4000 can quickly locate the line while avoiding damage to the site. Our team is trained to choose the appropriate machines and technology depending on the site conditions and result goals, therefore tailoring every GPR investigation to the needs of your job site.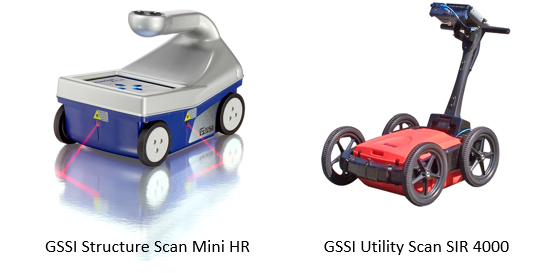 Our personalized reporting system also plays a vital role in SiteScan's innovation. After itemizing your project's GPR findings in a clear and easy-to-read fashion, we prepare a report with precisely the data you need. Some clients require a premium, all-inclusive report for a sprawling site with many discoveries, while others may prefer a simple copy of a daily report. You won't be charged a flat-fee for a report. Like everything else, we create custom experiences for our clients based on the individual project needs.

We are Responsive
Sometimes your project doesn't go as planned. Your dilemma is our opportunity. Instead of taking days or weeks of costly and damaging site drilling, consider our GPR services to save time and money.
At SiteScan, we guarantee a response to every email or phone call the same day. Rush requests are common and our staff is prepared to accommodate them. Our responsiveness doesn't stop there. As a valued client, you can expect frequent communication throughout your project as well as timely results delivered to you.
We are a Winning Team
When you choose SiteScan, you choose winners. Our work environment attracts and retains the industry's best of the best.
SiteScan takes pride in our commitment to policy and procedure, ensuring that careless mistakes, avoidable inaccuracies, and unwanted setbacks are kept to a minimum. Our integrity truly sets us apart, promising not just "good" but "better". When you think SiteScan, think "Better Vision, Better Intelligence" for your subsurface imaging needs.
Contact Us Today!
Call us at 888-445-SCAN.
Or complete the form to the right and one of our consultants will contact you within the same day.